U.S. small businesses give employees an average of 7.6 paid holidays a year, typically including New Year's Day, Memorial Day, July 4th, Labor Day, Thanksgiving, and Christmas. If an employee is required to work on a holiday, businesses often provide additional compensation and/or a floating day off instead.
If you want to easily manage time-off requests and approvals, check out Zoho People. It's less than $1/month per employee, provides employee self-service, and serves as a great place to store your important documents, such as the employee handbook and paid holiday policy.
Most Common Paid Holidays
Data from the Society for Human Resource Management (SHRM) shows how many U.S. employers provide paid holidays for the six most common public holidays, although they may not always be paid days off. The six most common days are:
New Year's Day (January 1) – 95 percent
Memorial Day (third Monday in May) – 94 percent
Independence Day (July 4) – 76 percent
Labor Day (first Monday in September) – 95 percent
Thanksgiving Day (fourth Thursday in November) – 97 percent
Christmas Day (December 25) – 97 percent
Many employers add either the day after Thanksgiving or Christmas Eve, making these seven or eight holidays the ones most commonly provided to employees and/or paid as holiday pay.
Because most of these holidays are clustered in the summer and early winter, adding paid holidays in the spring and fall can help even out breaks and keep your employee morale and productivity up. Here are some additional holidays that many small businesses observe:
Martin Luther King Jr. Day (third Monday in January)
Presidents Day (third Monday in February)
Columbus Day (second Monday in October)
Veterans Day (November 11)
Here's a quick summary: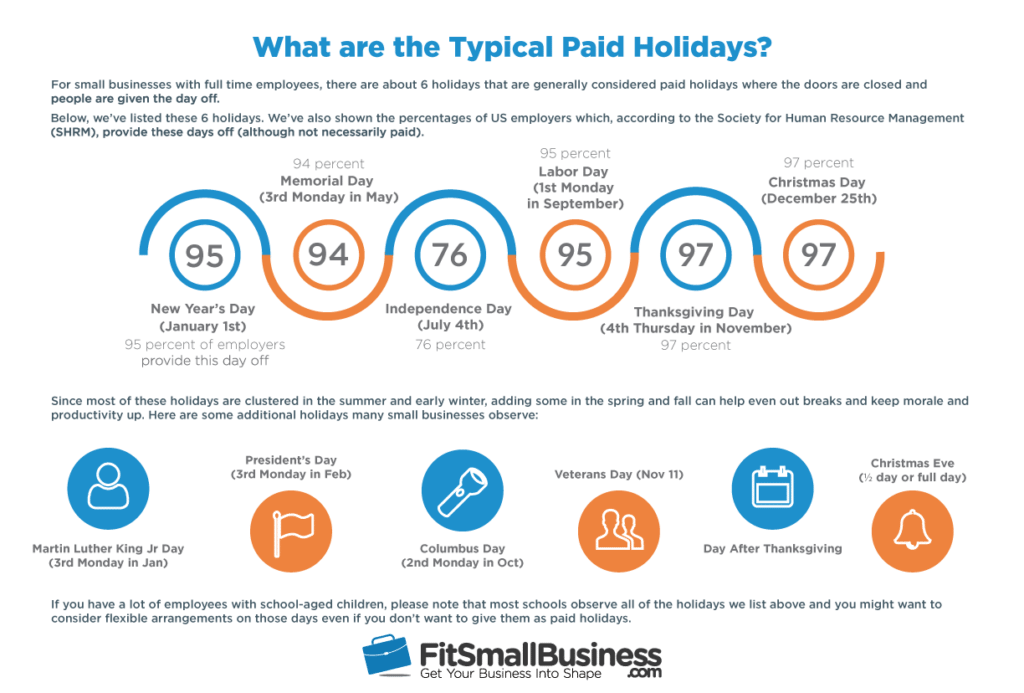 For more about paid time off (PTO) as a whole and how to provide it, see our full detailed guide, which covers vacation, sick leave, holidays, bereavement, and more. In addition, some companies provide a different set of paid holidays to salaried workers versus hourly workers, or to part-timers who don't work a full-time or regular schedule.
In order to manage your holiday pay policy (once you determine which holidays to pay for), we recommend drafting your policy and adding it to your employee handbook.
Federal Law, State Law, & Holiday Pay Laws
You do not need to provide any paid or unpaid holidays for your employees, either by state or federal law. You also do not need to provide vacation time (although you may need to provide paid sick leave if your business is located in certain cities or states, such as California or Oregon).
Even if not required, providing paid holidays and vacation time can be an important component to recruiting and retaining great employees. In addition, providing paid time off can increase morale and improve productivity. That helps you hire top talent, and prevents them from leaving your business in order to get more time with their family.
Holiday Pay Policy
Here are two sample holiday pay policies you can use. The first is most common, while the second is for businesses that require employees to work on holidays. You can cut and paste the text from the policies directly into your employee handbook, updating the dates before sharing it with your staff. Your small business employees will be delighted to know that you'll pay for the time taken off on holidays!
Sample Holiday Policy
[Company Name] currently recognizes the following holidays as paid holidays and honors the day off for all of its employees. If a holiday falls on a weekend, management will announce the preceding Friday or following Monday as a holiday in place of the standard holiday date at least four weeks in advance.
New Year's Day
Presidents Day
Memorial Day
July 4th
Labor Day
Thanksgiving Day and Day after Thanksgiving Day
Christmas Eve and Christmas Day
In addition, those required to work on the paid holiday will be asked to schedule a floating holiday day off with their manager's approval in lieu of the paid holiday.
Sample Holiday Policy for Businesses Open on Holidays
[Company Name] recognizes that employees may want to celebrate holidays with their families and loved ones, and we have established the following policy:
Four weeks prior to a holiday, we will ask for volunteers to work the shifts we have open. If the shifts are full, we will identify one or two employees to be on-call in case another employee who was signed up falls ill.
If there are still open shifts, we will do our best to provide fair scheduling. For example, if Suzie wants Thanksgiving Day off, but will work New Year's Day, we will try to make that work. We have found that if we communicate, we can generally cover the shifts.
If there are still open shifts, we will consider hiring temporary employees for the shifts.
We may also split shifts on holidays to allow workers to work fewer hours on those dates.
Team members will receive a $100 bonus for working their entire shift (as deemed by management) on the following holidays:
New Year's Day
Memorial Day
July 4th
Labor Day
Thanksgiving Day and the Day After
Christmas Eve and Christmas Day
One thing to note is that paid holidays, like paid vacations or paid time off (PTO), aren't required by law (but, at present, a handful of states require paid sick leave). Paid holidays are merely a benefit that helps you hire, retain and motivate your staff. Ultimately, your holiday pay policy is up to you.
Using a digital system like Zoho People can help you stay organized with online time-off policies stored all in one place for your employees to access. You can even automate those policies to ensure they're provided to new hires as part of your onboarding process.
Holiday Pay by Worker Type
Some companies provide different policies for different workers. For example, your retail employees who work in your stores may be required to work holidays so that your business can stay open on those days. Meanwhile, your office staff may not need to work those days if you close your offices. And some companies—like plumbers and gas stations—provide 24/7 service, requiring workers to work on holidays.
Further, if you have a lot of employees with school-aged children, you may notice that most schools observe all of the holidays we list above and many more. Therefore, you might want to consider flexible arrangements on those days even if you don't want to give them as paid holidays.
Workers who may benefit from various holiday policies include:
Full-time office employees –These are the most common employees to be offered six to nine paid holidays, as you close your office in observance of those holiday dates.
Full-time field or service employees – These employees may be offered paid holidays to allow them to spend time with family, although some may need flex holidays instead.
Retail and restaurant employees – Depending on work schedules, consider giving full-time employees the day off while having part-time employees fill in or take flex time.
Part-time employees – Part-time employees often receive a prorated amount of holiday pay; some businesses don't offer holiday pay to part-timers.
Freelance employees – Most small business don't pay freelance workers for holiday pay, but it's a perk you can offer, especially if your freelancer works full-time.
Overall, you'll need to determine how best to schedule your holidays and what kinds of holidays to offer based on the type of business you run and the types of workers you hire.
We recommend When I Work as free scheduling software to small businesses. When I Work allows you to build the schedule and then ask employees to sign up for shifts. It also allows shift swapping, which makes it easy for managers and employees to ensure shifts are covered.
Cost to Implement a Holiday Pay Policy
There are three primary costs that go into setting up and implementing a holiday pay policy. The first is the cost of developing, storing and providing training on the holiday pay policy itself. The second is the cost to administer it. But the most costly aspect of holiday pay is that you are paying workers their standard wages on days they don't actually work.
Policy Set Up – This may take you a few hours per year to document, update and share information on your holiday pay policy. Use our policy template above to get started.
Policy Administration – You may need software to keep track of your employee schedules and paid holidays. This can run from free to hundreds of dollars a month.
Wages – To determine the cost of your holiday pay policy, multiply the number of workers you have by the number of holidays you pay, and then by the average worker salary.
For example, let's say your average employee works an eight-hour day making $15 per hour. That's $120 per day. If you have 10 workers and give them seven paid holidays a year, it will cost you $8,400 in payroll costs (holiday pay wages).
Example: 10 workers x 7 days x $120/day = $8,400
Rather than thinking of holiday pay in terms of costs, however, consider it an investment in your business. In fact, you'll likely reduce your recruiting and hiring costs as you'll be able to attract and retain workers who want paid holidays. In fact, next to health benefits, paid time off is the most valued work perk that employees desire.
Holiday Pay Providers
HR providers like Zoho People can help you manage your holiday pay policies as well as employee data and new hire onboarding. Zoho People costs as little as $1 per month per employee. In addition, free timekeeping providers like Homebase, and free scheduling software like When I Work, can assist with your employee scheduling and hours worked. And there are ADP alternative payroll providers like Gusto that can manage time-off tracking, employee payroll and other benefits.
Here are the vendor providers we recommend along with some of the ways in which they can help you manage your holiday pay policy:
Zoho People
Using Zoho People, you'll have a database of all employees and be able to track their leave balance and their time-off requests, including flexible holidays if they have to work on a regular holiday. You'll also be able to store your employee handbook and your employment policies (including your holiday pay policy) on Zoho People, making it easy to share them with new employees as part of onboarding.
When I Work
When I Work is scheduling software that's free to small business, and can help you manage the work schedules of your employees. This is especially important if your business needs to stay open on common holidays like July 4th or Christmas Eve to serve seasonal shoppers or diners. You can also use When I Work to message employees about upcoming schedule changes or pending holidays.
Homebase
Homebase is timekeeping software we recommend for small business. Like When I Work, it can manage schedules and even provide shift swapping. However, Homebase is free for both scheduling and timekeeping to businesses with one physical location or those who track employee time through the free Homebase app. It allows you to keep track of who worked and when, and then feed that data into your payroll system.
Gusto
Gusto is payroll software with an HR database, document storage and onboarding options similar to Zoho People. If you don't already have payroll software, it's a great tool that lets you import timekeeping data (it has a native integration with free Homebase software), and then process your holiday pay as part of your ongoing payroll process.
Pros & Cons of Holiday Pay
HR professionals will tell you that offering holiday pay to workers is going to save you money in the long run by reducing your turnover. Nonetheless, if you talk to business owners, you'll find there are pros and cons worth mentioning.
Pros of Offering Holiday Pay
Here are the pros and primary benefits to your business of providing holiday pay to employees:
Improved Employee Morale – Your employees won't have to choose between spending time with their family or getting paid. They'll get both.
Reduced Turnover – Your employees won't be tempted to change employers to one that pays for holidays. It's a competitive advantage you'll have over other employers.
Reduced Absenteeism – Your employees are less likely to call in "sick" on a holiday, or to take a sick day before or after the holiday, since they'll be paid to take the holiday.
Cons of Offering Holiday Pay
The downsides of paying employees for holidays are less compelling and include:
It Costs Money – You have to determine in advance your payroll costs of providing paid holidays similar to any other paid time-off benefit you provide, such as PTO.
Holidays May Conflict with Your Work Schedule – You may need employees to work on holidays, and thus will need to offer a floating holiday or another means to make it fair to those employees, such as providing them a bonus for working on a holiday.
Post-Holiday Absenteeism – Some employees take advantage of paid holidays and call in sick the day before or after in order to give themselves a mini-vacation.
Can't Differentiate – If you offer paid holidays to some, you must offer it to all workers in similar jobs/categories. You can't discriminate against any legally protected classes, such as only offering paid holidays based on religion or marital status.
Alternatives to Holiday Pay
Smaller companies that don't feel they can afford to pay employees for all paid holidays might consider options, such as floating holidays, paid time off, or flexible scheduling. Another alternative is to provide the day off, but don't pay for that day off—that gives your employees the time off they need, even if they don't get paid while they're taking that time off.
Floating Holiday
In lieu of standard paid holidays, you may wish to allow employees to take off days that are meaningful to them. For example, you may have non-Christian employees who don't celebrate Christmas and would prefer to celebrate their own religious or family holidays instead. Here's how to set up a floating holiday policy.
Paid Time Off
Many companies provide paid time off for vacation and family events. Like a floating holiday, this gives employees the option to schedule multiple days at one time, perhaps allowing them to travel to see family for the holidays. Here's how to set up a standard PTO policy.
Unlimited Paid Time Off
Some start-ups are experimenting with unlimited PTO as a way to attract and retain employees. They don't, in fact, keep track of specific days that employees take off—instead, they provide workers with work expectations and a salary and don't otherwise worry about holidays. Here are some best practices on offering unlimited PTO. (Due to labor laws, this option works for exempt employees only.)
Flexible Schedule
You may want to let employees flex their schedules around holidays based on who wants to work and who doesn't. Or, perhaps employees can share shifts so that each person can spend at least a few hours that day with their family if they are required to work on a holiday. For example, one retail worker could take just the morning shift, while another picks up the afternoon shift.
Unpaid Holiday
Since paid holidays aren't required by any federal, state or local law, some employers don't offer them. But if they close their business on those days, they let the employee take the day off, unpaid. Or a service business may allow workers to sign up for those holidays they need to take off unpaid so that the work schedule (such as on-call) remains covered.
Paid Holidays That Are Worked
Some service providers and retail or food service establishments that must remain open on holidays incent their employees for taking those holiday shifts with differential pay. It could be a $100 holiday bonus for working that holiday, or it could be double time, meaning the employee receives twice their normal pay for all hours worked on that holiday.
5 Tips to Manage Holidays in Your Business
As a business owner, the term "the holidays" might bring up less than cheery thoughts. We've got five tips that you can use to deal with the holidays at your business and to help you administer a holiday pay policy.
1. Document and Share Your Holiday Policy
You can use our holiday policy examples above, modifying your policy to your schedule and business requirements, and then share it with your employees. We recommend you do this at least four weeks before the next holiday!
2. Use Software to Track Your Time-off Requests and Holiday Pay
Are you properly tracking vacation time, holidays, and paid time off? One in three companies doesn't and may be subject to large fines from the Department of Labor (DOL) or state agencies. Here are three kinds of HR software tools you can use to stay in compliance and make managing holiday schedules easier.
Scheduling Software – If you need help with employee shift swapping and scheduling them to work, consider scheduling software (we recommend When I Work).
3. Remind Employees About Holiday Schedules in Advance
Your employees might assume that they have the day off—especially if they're new to the workforce. Communicate and remind them to let you know if they need time off or have issues working their schedule during the holiday season.
4. Consider Hiring Temporary Employees or Closing for the Day
If you are a restaurant and no one can work on Christmas day, should you close or should you try to find temporary staff? Think of the cost/benefit of having the doors shuttered for the holiday versus staying open. Temps might be costly, but so might be losing your team members if they start looking for other jobs that provide holidays off. You'll want to look at the big picture, including last year's data on what staying open on a holiday did for you revenue-wise.
5. Remind Yourself That It's the Holidays
Take a deep breath; the holidays in the U.S. are few and far between, and you can be prepared for the crazy Thanksgiving/Christmas/New Year's holiday flurry if you plan properly. Remind yourself that holidays are important to people. They want (and need) to spend time with family and friends. It's a chance to build your company culture by honoring something important.
If you want to easily manage time-off requests and approvals, check out Zoho People—it's less than $1/month per employee.
Frequently Asked Questions (FAQs)
Here are questions that small business owners in various industries may have about holiday pay:
Is holiday pay mandated by any legislation?
No. Some states mandate sick pay, and other states require short-term disability benefits to be provided. However, no federal, state or local laws require an employer to provide paid holidays (or even to allow employees to take off those holiday days off, unpaid).
However, if you're in a union environment that specifies paid holidays, or your business states in its employee handbook, offer letter, or any policy that specific holidays are to be paid, then you must abide by that.
Can unused holiday pay be carried over to the next year?
It's uncommon for holiday pay to be carried over from one year to the next. If an employee can't use their holiday pay (because they work that day, for instance), you can either pay them holiday pay on top of their pay for that day (double time) or you can offer them a floating holiday instead, with the condition that they use it within a given time frame, such as that month or prior to year-end.
What if an employee is sick or on leave during the holiday?
Some businesses only pay holiday pay for those employees who work their scheduled business days prior to and after the holiday. That prevents employees from turning a holiday into a vacation and prevents you from having no-show employees after a long holiday weekend.
Employees on paid leave are generally paid the holiday as if they were working, while those on unpaid leave are not. In addition, some employees schedule their PTO around a holiday. In that case, for instance, they should still be paid the holiday as a holiday and the days before and after the holiday as PTO.
However, before you add restrictions to your holiday pay policy, check the sick leave laws in your state to ensure you don't violate any local leave laws.
LegalZoom provides sample policies and will review your policy to ensure it's valid in all states for the low cost of only $39 per document (if it's under 15 pages long). Consider having all your policies, including your holiday pay policy, reviewed to ensure you've covered your bases.
What about businesses with hourly employees?
Businesses with hourly employees don't always provide paid holidays or paid vacation, but this doesn't mean that you shouldn't. If your retail store or cafe offers paid holidays or vacation, you can attract top talent for open positions and reduce turnover of existing staff.
Don't believe that providing a day off or a paid day off might benefit your business? Check out what our sources say about how to increase employee engagement. Or perhaps you want to host a holiday party instead?
What about paid vacation time in general?
In addition to paid holidays, it's worth mentioning that having two weeks (10 business days, or 80 hours) of paid vacation time is standard in most salaried roles. That standard is also worth considering for hourly workers if you want to attract and retain a higher level of talent.
What if my business doesn't close on holidays?
If you own a restaurant, a cafe, a small theater business—any number of reasons could be why you might not close on a "usual" holiday and you may be open for business. If this is the case, you will want to instead establish a holiday pay policy around:
Which holidays your business is open and what the hours/shifts will be on those days
Whether you will pay a bonus or pay double time for people who work those days
Then, you will want to establish a holiday pay policy and holiday work policy from there.
Bottom Line
A holiday pay policy may feel stressful to a cash-strapped small business owner. But, consider the benefits of it for your employees and your employer brand. Having a few paid holidays, or paying people extra to work on a traditional holiday, can help keep your employees happy. That reduces your overall employment costs and helps retain those employees who keep your doors open.
Don't forget to check out Zoho People, an intuitive tool that can help you manage your employees as well as track your holidays and time-off requests. Click here to get started for free.